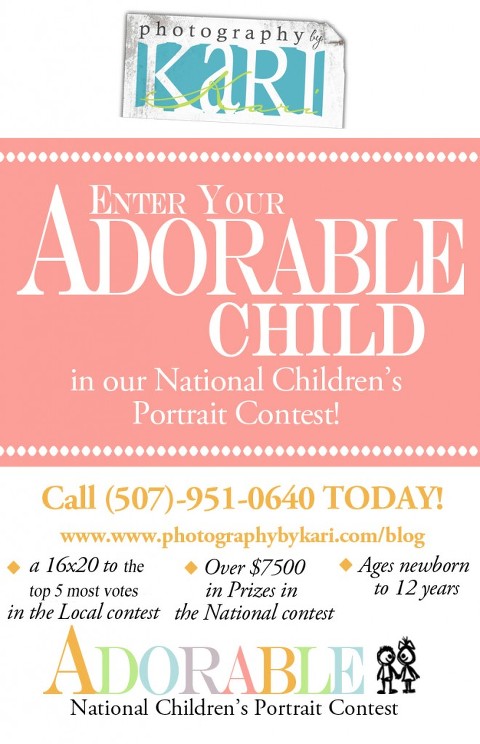 We are excited to announce our sixth year participating in the national 'Adorable Children's Portrait Contest'.  Schedule a portrait session with Photography by Kari for your child(ren) age newborn to 12 years now ( if you have already had a session after March 1, 2021 you may enter a photo from that session) until September 1, 2021, and you can choose to enter the Adorable National Children's Portrait Contest.
In our first year one of our clients won a 1st place in the National Adorable Children's Contest!  And in 2016, we had 5 winners winning $375 and also 16×20 prints.  And in 2017 we had 2 winners, one a first place winner and the other a second place with them winning $325 total and also 16×20 prints. And then in 2019, we had 2 winners in the Nation Children's Portrait Contest with a 1st place in the 7 to 12 month category, winning a 16×20 of winning photo (a value of $105) and a $200 Visa Gift Card and a Honorable Mention in the 3 to 5 year category winning a 11×14 of the winning photo (a value of $75) and a $25 Visa Gift Card.
This is a national contest being put on by one of our labs and is open to kids ages newborn to 12 years and has a variety of categories.  The photos will also be judged locally via votes on Photography by Kari's blog  in October.  The top 7 winners with the most votes in the local Photography by Kari Adorable Children's Portrait contest will receive a 16×20 print ($105 value) of the winner's choice from the session used to enter the contest . The Grand prize for participating in of the local contest will also receive a Standard Session and  5×7 session brag book from this session (a $455 value). The best part of the contest is that there are over $7500 in prizes in the National contest!
So why not get some cute photos of your child(ren) AND have the chance to win the top national prize of a $1500.00 MasterCard gift card?
The National Photo Categories are: • 0-6 months • 7-12 months • 13 months-2 years • 3-5 years • 6-8 years • 9-12 years • Mommy/Daddy and Me (one adult and one child)(Maternity pictures are not eligible) • Buddies (minimum of 2 subjects) • Bloopers • Me n' My Pet   Fine print: 1. Parents/Guardians MUST sign a model release form that gives permission to Photography by Kari and American Color Imaging with unlimited use of the child's photographs without additional compensation. 2. More than one child may be included in the portrait session, but only images of children ages 12 and under are eligible to win. 3. For National judging, prints are judged on the basis of quality, appearance, charm, expression and personality. All judging decisions are final.Contest winners will be announced and prizes awarded on October 25, 2021 for the National Photo Contest. 4.  There is no cash value to the local prizes.